Southeastern Dermatopathology Institute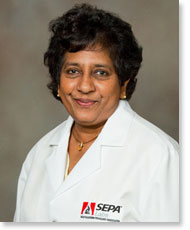 Rose P. Draviam, MD
Director of Dermatopathology Services
Department Members
The Dermatopathology Institute offers a full range of Dermatopathology services including:
Comprehensive Case Review and work-up, using a wide repertoire of ancillary studies
Frozen Section Services, including Mohs surgery frozen section reviews
Direct Skin Immunofluorescence Exam
Dermatopathology consultation
Through our state-of-the art facilities, we provide a thorough evaluation of specimens using some of the most advanced technology available.
The Institute's laboratory prides itself on rapid, accurate turnaround times of dermatology specimens, In urgent cases, "STAT" reports can be provided within 6 hours of the arrival of the specimen in the laboratory.
Our board certified Dermatopathologists have a cumulative experience of over 25 years of practice in the field. They take a collaborative approach, meeting daily to consult, confer and corroborate results. We also use standardized reports of malignant melanoma, including
If you would like more information please read our brochure about Dermatopathology.
Sample Report